Treneague Chamomile Ground Cover Lawn Replacement Kit
This ground cover starter kit includes 128 young plants, which you can plant at a spacing of 4-6" (closer spacing = faster coverage, wider spacing = more economical/more sqft covered, but takes longer to fill in). A spacing of 4" will cover about 14 sqft, a spacing of 6" will cover about 32 sqft. As an alternative to grass as aground cover, this unique type of Chamomile will require no mowing, no fertilizer or herbicide, and is drought tolerant once established.

Treneague Chamomile is ideal as a lawn replacement. This is a non-flowering perennial Chamomile, and it's growth habit makes it a more manicured lawn-like option for a seamless lawn-replacement. When stepped on, it has a delicate sweet apple scent. The soft foliage, sweet scent, and low even growth habit make this the ideal lawn replacement for shade to part-shade yards. Chamomile has the additional benefit of enriching the soil as it grows. Make sure to water regularly and avoid walking on your new lawn for 12 weeks after planting, but once it is established it will be very drought tolerant and can withstand moderate foot traffic.

Includes 128 young plant starts, each plant is about 3/4" in diameter and 1" deep. The plant height is usually about 1/2." Because with this volume of young plants sometimes there are some empty cells or plants that are damaged in transit, we only charge for 125 plants to account for the possibility that some of the plants may be duds. When planning your lawn, count on 125 plants to play it safe!
Regular price
$428.00 USD
Regular price
$0.00 USD
Sale price
$428.00 USD
Unit price
per
Sale
Coming Soon!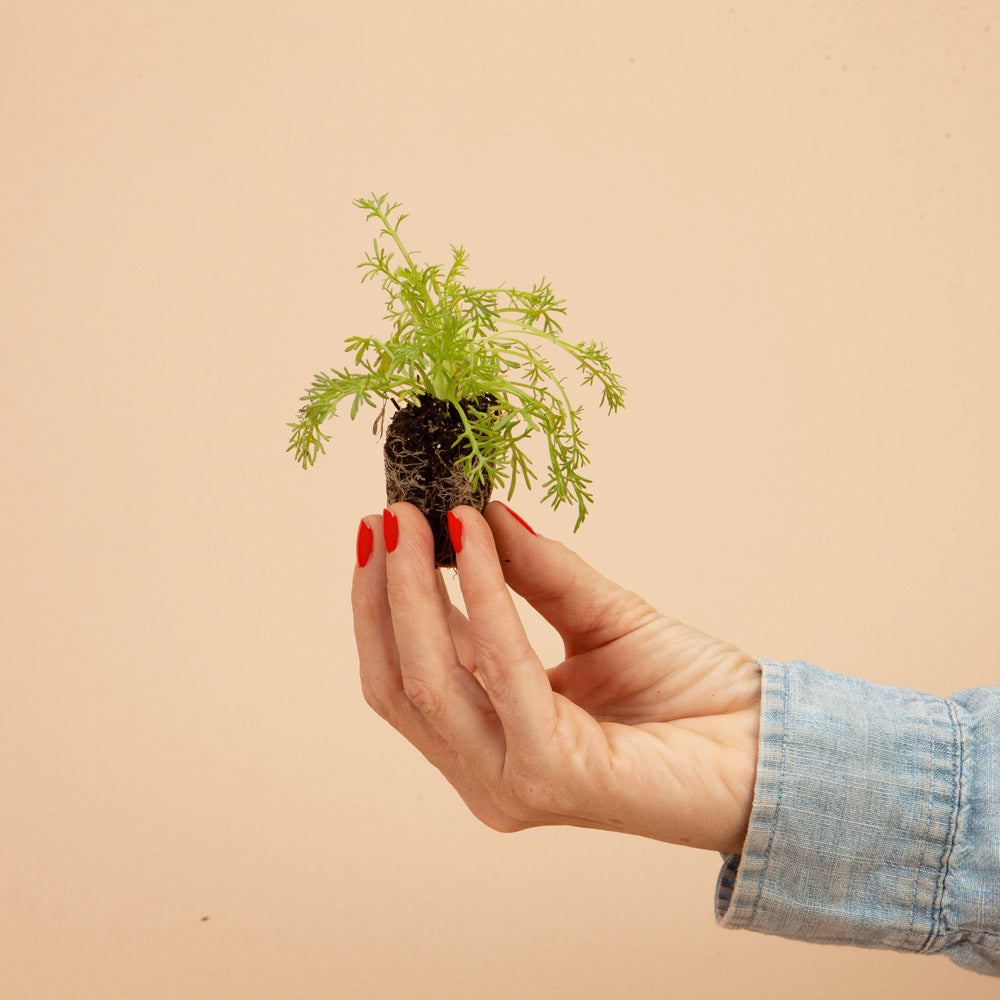 Hi. I'm glad I've found you. I'm planting a Carex morrowii 'Silk Tassels' lawn, which cannot be walked on. I'd like to plant a walkable path with chamomile 'Treneague'. With 4" spacing does the kit cover 14 square feet or 24 square feet? Would it be wise, unwise, or fattening to this spring plant a slight drift of short, shade-tolerant wildflowers between the plugs? Most important question of all: Will your chamomile kit be available fall 2023? Do you have an idea when? Thanks!

Holy smokes I love this vision! You must send us pictures! I would plant the wildflowers between the edge of the Chamomile path and the Silk Tassels. These plants will cover 14 sqft at the 4" spacing. It smells amazing when you walk on it, bonus! It will be available in Spring 2024, but you can dm us for a custom grow if desired for this fall, depending on how many trays you would like!

Yea, I don't have to fly to the UK! Let's say I want to plant C. nobile 'Treneague' after smothering my lawn. I'd be planting it on top of 4"-6" of NEW soil in the semi-shaded area of the backyard under trees. Would 10%Peet moss, 20%sand, 50% topsoil, and 20%composted manure be ok? I don't know what's best, what type of soil would you suggest for zone 6b? Thank you

Excellent! This soil mix sounds perfect! We will have more trays available this fall!

Can I buy seeds instead of plugs?

Treneague Chamomile is actually what's called 'vegetative' which means it grows from cuttings, not from seed. So unfortunately this is one of those varieties that you have to buy as a plant. It is quite different from the 'regular' Chamomile that is easily grown from seed!

Hello! I love this….but i'm terrible at math. can you tell me about how much square feet it would cover? 😅🌸

Of course! At 4" spacing it will cover 24 sqft, at 6" spacing it will cover 32 sqft